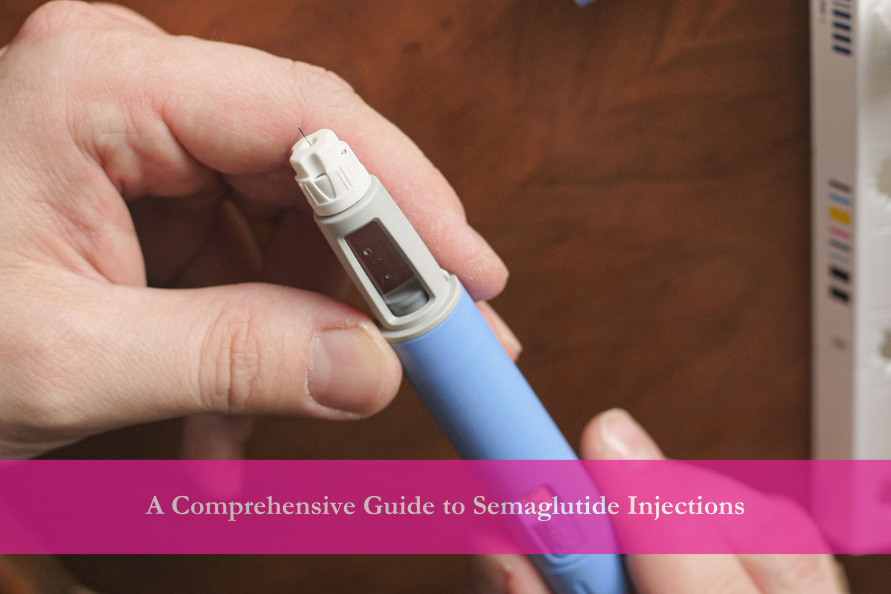 Don't you wish that you could lose weight and keep it off for good? With the help of Semaglutide injections, you can. When paired with a healthy diet and exercise regimen, Semaglutide can help you achieve your weight loss goals. Keep reading to learn more about what Semaglutide does and how it could benefit you.
What Are Semaglutide Injections?
Semaglutide is a weekly, subcutaneous injection that accelerates weight loss results. This advanced weight loss treatment is designed to help those with type 2 diabetes regulate their blood sugar levels. It also offers long-term weight loss management for diabetics and non-diabetics.
What Kind of Medication Is Semaglutide?
The injection imitates glucagon (GLP-1), which is a peptide hormone that makes you feel full after eating. By accelerating the release of this peptide and slowing gastric emptying, the Semaglutide injection makes you feel full longer. When you feel full longer, you tend to eat less frequently, which accelerates the weight loss process.
Semaglutide also enhances glucose-dependent insulin secretion from the pancreas. Insulin is a hormone that decreases your blood sugar level, which in turn reduces the body's production of fat. Decreased fat production helps you lose weight faster.
How Does Semaglutide Work?
Each liquid Semaglutide dose is injected weekly by our Nurse Injector. The injection is given in the abdomen with a fine gauge needle.
This treatment is most effective when accompanied by lifestyle changes. When paired with a healthy diet and exercise regimen, Semaglutide helps overweight and obese adults achieve their desired weight loss results.
How Long Does Semaglutide Take To Work?
Results aren't immediate, but the injections do work quickly. Most patients achieve weight loss results within the first few weeks of starting the injections. Results—along with the speed at which they occur—vary between patients.
Schedule Your Personal Consultation
How Do Semaglutide Injections Help With Weight Loss?
This medication helps people lose weight by regulating appetite and slowing gastric emptying, making you feel fuller longer with fewer calories.
How Effective Is Semaglutide for Weight Loss in Non-Diabetics?
A scientific study published in The New England Journal of Medicine found that out of 2,000 non-diabetic, obese adults, 50% reported losing 15% of their body weight, while almost a third reported losing 20% of their body weight. All study participants supplemented the injections with practical lifestyle changes. Weight loss medications like Semaglutide should always be accompanied by a healthy diet and exercise regimen.
Who Should—and Should Not—Take Semaglutide for Weight Loss?
Take Semaglutide if you:
Have been diagnosed as overweight or obese
Haven't lost weight with dietary changes and exercise alone
Have a BMI of 30 kg or greater
Have a weight-related medical condition, like high cholesterol, diabetes, or high blood pressure
Don't take Semaglutide if you:
Have a family history of medullary thyroid cancer, gallbladder disease, and/or pancreatitis
Have multiple endocrine neoplasia syndrome type 2 (MEN2)
Are pregnant or plan to become pregnant
Schedule a Personal Consultation With Our Board-Certified Plastic Surgeon
As Scottsdale's leading plastic surgeon, Dr. Mazaheri is an expert on all things weight loss management. If you want to know whether Semaglutide injections are right for you, schedule a personal consultation with us today. You can trust us to make the right recommendation.
Common FAQs About Semaglutide
Is Semaglutide safe?
If used correctly, Semaglutide is perfectly safe. Any side effects are mild in most patients.
Does Semaglutide get rid of belly fat?
Yes, Semaglutide helps people lose weight by eliminating belly fat.
Will the weight come back after treatment?
Some patients report regaining the weight they lost upon stopping the injections. However, Semaglutide is most effective when coupled with routine exercise and a healthy diet. When these healthy habits are maintained after stopping treatment, the weight is more likely to stay off.
Are Semaglutide injections painful?
Semaglutide injections cause minimal pain. You will only feel the pinch of the needle as it pierces the skin.
How much weight can you lose with Semaglutide?
According to a study published by The New England Journal of Medicine, some patients lost up to 20% of their body weight while using Semaglutide.
How long does it take to lose weight on Semaglutide?
Most patients see results within a few weeks of starting Semaglutide treatment.
Can you lose 20 pounds in a month with Semaglutide?
While it's possible to lose 20 pounds in the first month of starting Semaglutide injections, most patients lose weight at a slower rate.
What happens during the first week of using Semaglutide?
You may start to lose weight within the first week of using Semaglutide. This occurs most frequently in people who couple the injections with diet and exercise.
What foods should you avoid while taking Semaglutide?
Follow the dietary recommendations provided by your doctor or registered dietitian to achieve optimal weight loss results.
Is Semaglutide weight loss permanent?
Semaglutide weight loss is permanent if you continue a healthy regimen of diet and exercise.
Comments are closed.